$17.99
NZD
$22.99
(21% off)
Category: Great deals on Sci-Fi & Fantasy | Series: The\Vagrant Trilogy Ser.
The Vagrant is his name. He has no other.Years have passed since humanity's destruction emerged from the Breach.Friendless and alone he walks across a desolate, war-torn landscape.As each day passes the world tumbles further into depravity, bent and twisted by the new order, corrupted by the Usurper, th e enemy, and his infernal horde.His purpose is to reach the Shining City, last bastion of the human race, and deliver the only weapon that may make a difference in the ongoing war.What little hope remains is dying. Abandoned by its leader, The Seven, and its heroes, The Seraph Knights, the last defences of a once great civilisation are crumbling into dust.But the Shining City is far away and the world is a very dangerous place. ...Show more
$23.99
NZD
$29.99
(20% off)
Category: Great deals on Sci-Fi & Fantasy | Series: Sorcery Ascendant Sequence | Reading Level: very good
The Aurealis Award-winning e-book bestseller now in print. An imaginative new talent makes his debut with the acclaimed first installment in the epic Sorcery Ascendant Sequence, a mesmerizing tale of high fantasy that combines magic, malevolence, and mystery. When young Caldan's parents are brutally sla in, the boy is raised by monks who initiate him into the arcane mysteries of sorcery. Growing up plagued by questions about his past, Caldan vows to discover who his parents were, and why they were violently killed. The search will take him beyond the walls of the monastery, into the unfamiliar and dangerous chaos of city life. With nothing to his name but a pair of mysterious heirlooms and a handful of coins, he must prove his talent to become apprenticed to a guild of sorcerers. But the world outside the monastery is a darker place than he ever imagined, and his treasured sorcery has disturbing depths he does not fully understand. As a shadowed evil manipulates the unwary and forbidden powers are unleashed, Caldan is plunged into an age-old conflict that will bring the world to the edge of destruction. Soon, he must choose a side, and face the true cost of uncovering his past. "The story is strong and the writing style simple but assured as a promising new series begins." - Daily Telegraph ...Show more
$17.99
NZD
$22.99
(21% off)
Category: Great deals on Sci-Fi & Fantasy | Series: Shattered Sea | Reading Level: Teen - Grade 7-9, Age 12-14
'A fast-paced tale of betrayal and revenge that grabbed me from page one and refused to let go' GEORGE R.R. MARTIN Read the first seven chapters of Joe Abercrombie's fantastic new book! Prince Yarvi has vowed to regain a throne he never wanted. But first he must survive cruelty, chains and the bitter wa ters of the Shattered Sea itself. And he must do it all with only one good hand. Born a weakling in the eyes of his father, Yarvi is alone in a world where a strong arm and a cold heart rule. He cannot grip a shield or swing an axe, so he must sharpen his mind to a deadly edge. Gathering a strange fellowship of the outcast and the lost, he finds they can do more to help him become the man he needs to be than any court of nobles could. But even with loyal friends at his side, Yarvi's path may end as it began - in twists, and traps and tragedy... ...Show more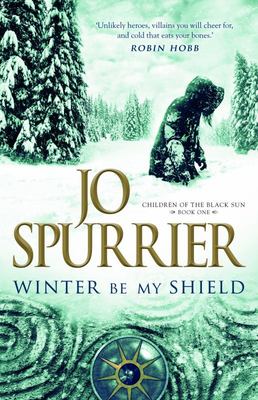 $17.99
NZD
$22.99
(21% off)
Category: Great deals on Sci-Fi & Fantasy | Series: Children of the Black Sun Ser.
Sierra has a despised and forbidden gift -- she raises power from the suffering of others. Enslaved by the king's torturer, Sierra escapes, barely keeping ahead of Rasten, the man sent to hunt her down. Then she falls in with dangerous company: the fugitive Prince Cammarian and his crippled foster-broth er, Isidro. But Rasten is not the only enemy hunting them in the frozen north and as Sierra's new allies struggle to identify friend from foe, Rasten approaches her with a plan to kill the master they both abhor. Sierra is forced to decide what price she is willing to pay for her freedom and her life ...Original, dramatic and unputdownable, WINTER BE MY SHIELD is the first in an epic fantasy trilogy from brilliant new Australian talent Jo Spurrier. 'Unlikely heroes, villains you will cheer for, and cold that eats your bones. WINTER BE MY SHIELD will take you to an unforgiving place, but you won't want to leave it.' - Robin Hobb ...Show more
Items per page:
1 - 4 of 4