$21.99
NZD
Category: Hardback Picture Books
My name's Rosie. I have fifty-two teeth. Would you like to play with me? Rosie's book says making friends is easy: there are six steps to follow. But it's not as easy as she thinks!
$21.99
NZD
Category: Hardback Picture Books
The official story chosen for ALIA NATIONAL SIMULTANEOUS STORYTIME 2021, TO BE CELEBRATED ALL ACROSS AUSTRALIA AND NEW ZEALAND! "Una dreams of a life in Space. Life on Earth is just so so-so. But how will she get there? And will she complete her mission to discover life in Space? And did she remember t o feed Neil the goldfish?" This year NSS takes place on Wednesday 19 May 2021 at 11:00am from the International Space Station and we would love it if you could join us by sharing Give Me Some Space written and illustrated by Philip Bunting. Everyone can join NSS, it doesn't matter whether you are at home, a school, a public library or even a university library! Help us get #1MillionKidsReading! For more information and to register your event visit: alia.org.au/nss.   ...Show more
$27.99
NZD
Category: Hardback Picture Books | Series: Claris
A sweet little mouse takes on a cheeky cat burglar with holiday cheer Can Claris and Monsieur save the day - the New York way?   The fourth Claris book from acclaimed fashion illustrator Megan Hess. The best-selling Claris series follows an adorable mouse who moves to Paris to follow her fashion dreams, for fans of Eloise and Olivia. Destined to delight fashion-obsessed readers of all ages   A quarter of a million Claris books in print   ...Show more
$29.99
NZD
Category: Hardback Picture Books
Gabriel is being chased by monsters! His friend is one, and so is his uncle, his grandma … even the cat! But who will catch him? A brand new picture book from the award-winning Lucy Cousins. Come on everybody, Gabriel wants to PLAY! You be a monster, and he'll run away... Gabriel is being chased by terr ible monsters with sharp pointy teeth, spikes on their back, and smelly feet! But it's all right, they can't catch him ... or can they? Let's play monsters! In this riotously funny new story from the award-winning Lucy Cousins, we follow our brave hero Gabriel as he runs away from a host of fantastically weird and wonderful monsters, played by everyone at home from his grandma to a potted plant. Inspired by Cousins' playtime with her own grandson, Let's Play Monsters is a delightful tale celebrating family and the power of imagination – featuring some truly magnificent monster creations! ...Show more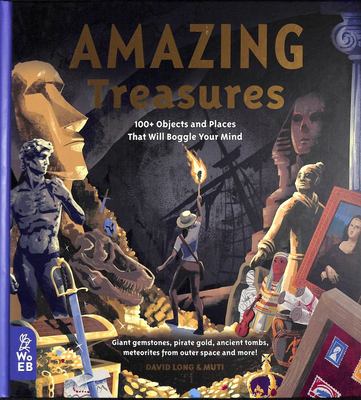 $36.99
NZD
Category: Hardback Picture Books
Discover 100 of the world's most extraordinary man made and natural treasures, objects and places Discover 100 of the world's most remarkable artefacts, most stunning artworks and most intriguing ruins in this beautifully illustrated book about Earth's treasures.Treasures both natural and manmade make a n appearance in a tour which stretches across thousands of years and all around the globe. Discover sunken wrecks loaded with pirate gold, the abandoned tombs of the world's most powerful rulers and even meteorites - treasures from outer space!A central gatefold offers a close-up look at the wonders hidden within the Forbidden City in China, while Blue Peter award-winning author David Long also addresses contemporary topics such as our threatened natural wonders and the ownership of cultural treasures. ...Show more
$21.99
NZD
Category: Hardback Picture Books
From the moment he hatched from his egg, Vernon knew he wanted to fly. Every night he dreams of riding the wild west wind, curling and twirling, swooshing and swirling... So when Vernon decides to make his dreams come true, he discovers that what you truly want, and who you truly are, might just surpris e you. Prepare for lift off, and laughter, in this fabulous debut from Natashia Curtin. ...Show more
$18.99
NZD
Category: Hardback Picture Books
Have you ever wondered what makes you... YOU? Journey from the streets of New York City to the cosmic realms to discover the answers to lifes most important questions in Soul, Disney-Pixars newest animated film starring Tina Fey and Jamie Foxx. This beautifully illustrated 72-page book is perfect for an y Disney-Pixar fan. Featuring gold foiling on the cover, and a stunning gold ribbon to mark your place, this hardcover book is something to treasure for a lifetime! ...Show more
$21.99
NZD
Category: Hardback Picture Books
When Grandpa decides to buy Jessie a new pair of shoes for winter, the rest of the family join in with offers of new socks, skirt, blouse, sweater, coat, scarf, hat and mittens. But all Jessie really wants is a new pair of...
War Horse
by Michael Morpurgo
$27.99
NZD
Category: Hardback Picture Books
Master storyteller Michael Morpurgo has adapted his much-loved novel, War Horse, for a picture book audience. This powerful book for younger readers tells the enduring story of a friendship between a boy and his horse and is a gateway to help children understand the history and deadly chaos of the Firs t World War. As we move beyond centenary commemorations and continue to strive for peace across the world, War Horse remains an important book for generations to come. Praise for War Horse:  War Horse is a story of universal suffering for a universal audience by a writer who 'has the happy knack of speaking to both child and adult readers' - The Guardian ...Show more
$29.99
NZD
Category: Hardback Picture Books
The war carried the Spanish flu across the world. Faces grew masks. Shops and schools wore signs that said, Closed. Families nursing the sick drew their curtains together to say their house was quarantined... From the award-winning creators of Flood, Fire, Cyclone and Drought, comes this powerful story of humanity prevailing during a pandemic. ...Show more
Wombat (HB)
by Philip Bunting (Illustrator)
$21.99
NZD
Category: Hardback Picture Books
A rhythmic, read-aloud (and rather silly) burrow into the unseen world of the wombat.
$27.99
NZD
Category: Hardback Picture Books
The first new Guess How Much I Love You picture-book story for 24 years! One day Big Nutbrown Hare is busy, but Little Nutbrown Hare wants to play so he goes off exploring on his own. He discovers another hare in a puddle – then realizes it's his reflection. He spots his shadow and wants to race it – o nly to find it's just as fast as him. Then up on Cloudy Mountain he finally finds someone to play with: a little snow white hare called Tipps. And she's real! This lovely new story is a wonderful companion to the classic picture-book Guess How Much I Love You; a charming tale about friendship with a delightful and original twist. ...Show more