$37.99
NZD
Category: Historical
Paris 1943. Lana Antanov is rushing to see her husband, Frederic, and tell him the news that she is pregnant. But as she arrives the convent where Frederic teaches music, she watches in horror as a Gestapo officer executes Frederic for hiding a Jewish girl in a piano. Overcome with grief, Lana loses the baby. A few months later, Lana is approached by a member of the French Resistance to work as a spy on the French Riviera and help save Jews from execution. As a 'White Russian' daughter of a Russian countess, Lana is the ideal choice to infiltrate the emigre community of Russian aristocrats who socialise with German officers. But Lana has a very personal motive for taking on this mission - the Gestapo officer in charge intent on exterminating all the Jews, Alois Brunner, is the man who shot Frederic. Lana's cover story makes her the mistress of a wealthy Swiss playboy, the darkly handsome and charismatic Guy Pascal, and her base his villa on the Riviera. Together they make a ruthlessly effective team. The information they gather at parties and the casino at Monte Carlo helps thwart several raids and enables countless Jews to escape to Morocco by boat. But Lana has not counted on becoming attached to a young Jewish girl named Odette or to fall helplessly in love with Guy. As the Nazis close in, her desire to protect the ones she loves threatens to put them all at risk. 'Filled with danger and romance, Lana's War is the story of a courageous woman waging her own battle against the Nazis ... Cinematic in scope, this novel will keep readers turning pages with twists and turns that lead to an unforgettable ending.' Renee Rosen, bestselling author of Park Avenue Summer   'Lana is a heroine to root for, and her story of loss and love is inspiring and life-affirming. I was completely engrossed in this lush, transportive novel.' Allison Pataki, New York Times bestselling author of The Queen's Fortune ...Show more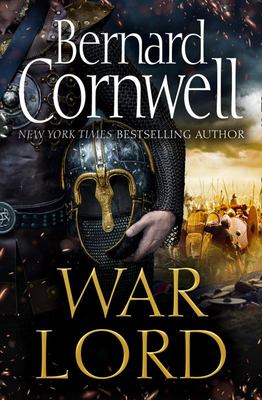 $29.99
NZD
$35.00
(14% off)
Category: Historical | Series: The\Last Kingdom Ser.
THE FINAL BATTLE AWAITS... The epic conclusion to the globally bestselling historical series, coming October 2020. England is under attack. Chaos reigns. Northumbria, the last kingdom, is threatened by armies from all sides, by land and sea - and only one man stands in their way. Torn between loyalty and sworn oaths, the warrior king Lord Uhtred of Bebbanburg faces his greatest ever battle - and prepares for his ultimate fate...   ...Show more
$37.99
NZD
Category: Historical | Series: Cesare Aldo Ser.
City of Vengeance is an explosive debut historical thriller by D. V. Bishop set in Renaissance Florence. Florence. Winter, 1536. A prominent Jewish moneylender is murdered in his home, a death with wide implications in a city powered by immense wealth. Cesare Aldo, a former soldier and now an officer of the Renaissance city's most feared criminal court, is given four days to solve the murder: catch the killer before the feast of Epiphany - or suffer the consequences. During his investigations Aldo uncovers a plot to overthrow the volatile ruler of Florence, Alessandro de' Medici. If the Duke falls, it will endanger the whole city. But a rival officer of the court is determined to expose details about Aldo's private life that could lead to his ruin. Can Aldo stop the conspiracy before anyone else dies, or will his own secrets destroy him first? ...Show more
$22.99
NZD
Category: Historical | Series: Bridgertons Ser.
From New York Times bestselling author Julia Quinn comes the first novel in the beloved Regency-set world of her charming, powerful Bridgerton family, now a series created by Shonda Rhimes for Netflix. In the ballrooms and drawing rooms of Regency London, rules abound. From their earliest days, childre n of aristocrats learn how to address an earl and curtsey before a prince--while other dictates of the ton are unspoken yet universally understood. A proper duke should be imperious and aloof. A young, marriageable lady should be amiable...but not too amiable. Daphne Bridgerton has always failed at the latter. The fourth of eight siblings in her close-knit family, she has formed friendships with the most eligible young men in London. Everyone likes Daphne for her kindness and wit. But no one truly desires her. She is simply too deuced honestfor that, too unwilling to play the romantic games that captivate gentlemen. Amiability is not a characteristic shared by Simon Basset, Duke of Hastings. Recently returned to England from abroad, he intends to shun both marriage and society--just as his callous father shunned Simon throughout his painful childhood. Yet an encounter with his best friend's sister offers another option. If Daphne agrees to a fake courtship, Simon can deter the mamas who parade their daughters before him. Daphne, meanwhile, will see her prospects and her reputation soar. The plan works like a charm--at first. But amid the glittering, gossipy, cut-throat world of London's elite, there is only one certainty: love ignores every rule...   ...Show more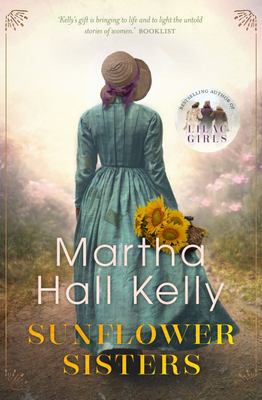 $37.00
NZD
Category: Historical
From the author of the million-copy global bestseller Lilac Girls, comes a captivating new historical novel, set during the American Civil War. It's a sweeping story of women caught in a country on the brink of collapse, in a society grappling with nationalism and unthinkable racial cruelty. Georgeanne "Georgey" Woolsey isn't meant for the world of lavish parties and demure attitudes of women of her stature. So when the war ignites the nation, Georgey follows her passion for nursing during a time when doctors considered women a bother on the battlefront. In proving them wrong, she and her sister Eliza venture from New York to Washington, D.C. to Gettysburg and witness the unparalleled horrors of slavery as they become involved in the war effort. In the South, Jemma is enslaved on the Peeler Plantation in Maryland, where she lives with her mother and father. Her sister, Patience, is enslaved on the plantation next door and both live in fear of LeBaron, an abusive overseer who tracks their every move. When Jemma is sold by the cruel plantation mistress Anne-May at the same time the Union army comes through, she sees a chance to finally escape-but only by abandoning the family she loves. Anne-May is left behind to run Peeler Planation when her husband joins the Union Army and her cherished brother enlists with the Confederates. In charge of the household, she uses the opportunity to follow her own ambitions and is drawn into a secret Southern network of spies, finally exposing herself to the fate she deserves. ...Show more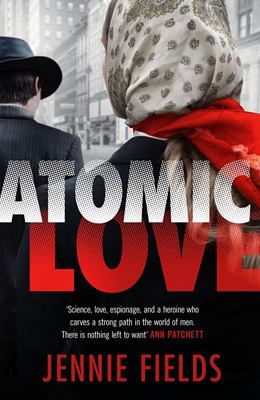 $37.00
NZD
Category: Historical
In 1950s Chicago a former scientist on the Manhattan Project finds herself torn between two men: the physicist she loved passionately during the war, and the handsome, wounded FBI agent now investigating him for espionage, in this breathtaking novel of betrayal, love, desire, and secrets.   Chicago, 195 0. Rosalind Porter has always defied expectations--in her work as a physicist on the Manhattan Project, and in her passionate love affair with co-worker Thomas Weaver. Five years after the end of both, her guilt over the results of her work and her heartbreak over Weaver are intertwined. She has almost succeeded in resigning herself to a more conventional life. Then Weaver gets back in touch--and so does the FBI. Agent Charlie Szydlo wants Roz to spy on Weaver, whom the FBI suspects of passing nuclear secrets to Russia. Despite her better instincts, Roz has never stopped loving Weaver, but now finds herself drawn to Charlie, even as she's not sure she can trust him. Charlie, whose time as a prisoner of war haunts him, is not sure he can trust himself, especially around Roz. As Roz's feelings for each man unexpectedly deepen, so too does the danger she finds herself in. When it becomes clear the Russians will stop at nothing, Roz will have to choose: The man who taught her how to love, or the man her love might save? ...Show more
$24.99
NZD
Category: Historical | Series: The\Last Kingdom Ser.
The fifth installment of Bernard Cornwell's bestselling Saxon Tales chronicling the epic saga of the making of England, "like Game of Thrones, but real" (The Observer, London)--the basis for The Last Kingdom, the hit BBC America television series. At the end of the ninth century, King Alfred of Wessex is in ill health; his heir, an untested youth. His enemy, the Danes, having failed to conquer Wessex, now see their chance for victory. Led by the sword of savage warrior Harald Bloodhair, the Viking hordes attack. But Uhtred, Alfred's reluctant warlord, proves his worth, outwitting Harald and handing the Vikings one of their greatest defeats. For Uhtred, the sweetness of victory is soon overshadowed by tragedy. Breaking with Alfred, he joins the Vikings, swearing never again to serve the Saxon king. Instead, he will reclaim his ancestral fortress on the Northumbrian coast. Allied with his old friend Ragnar-and his old foe Haesten-he aims to invade and conquer Wessex itself. But fate has different plans . . . In The Burning Land, Bernard Cornwell, "the reigning king of historical fiction" (USA Today), delivers a rousing saga of Anglo-Saxon England-an irresistible new chapter in his thrilling Saxon Tales, the epic story of the birth of England and the legendary king who made it possible. ...Show more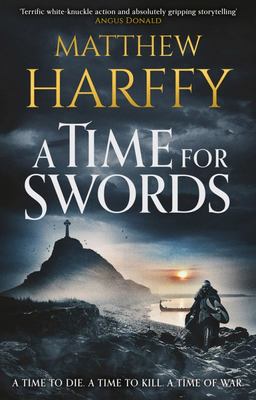 $32.99
NZD
Category: Historical
When the Vikings attack, a novice monk's life is changed forever in Matthew Harffy's new historical adventure. Lindisfarne, AD793. There had been portents - famine, whirlwinds, lightning from clear skies, serpents seen flying through the air. But when the raiders came, no one was prepared. They came from the North, their dragon-prowed longships gliding out of the dawn mist as they descended on the kingdom's most sacred site. It is 8th June AD793, and with the pillage of the monastery on Lindisfarne, the Viking Age has begun. While his fellow monks flee before the Norse onslaught, one young novice stands his ground. He has been taught to turn the other cheek, but faced with the slaughter of his brothers and the pagan desecration of his church, forgiveness is impossible. Hunlaf soon learns that there is a time for faith and prayer . . . and there is a time for swords. Praise for Matthew Harffy: 'A Time for Swordsis a wonderful story and a bold opening from Harffy to yet another enthralling series. It promises to be one heck of a ride' Theodore Brun, author of A Mighty Dawn 'Nothing less than superb... The tale is fast paced and violence lurks on every page' Historical Novel Society 'Harffy's writing just gets better and better ... He is really proving himself the rightful heir to Gemmell's crown' Jemahl Evans, author of The Last Roundhead 'Historical fiction doesn't get much better than this' Angus Donald, author of The Outlaw Chronicles 'A tale that rings like sword songin the reader's mind' Giles Kristian, author of Camelot ...Show more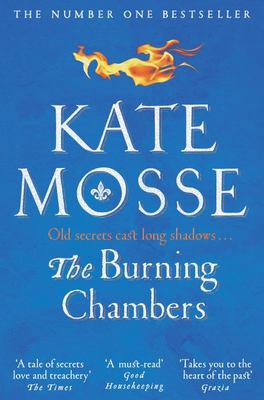 $19.99
NZD
Category: Historical | Series: The\Burning Chambers Ser.
Bringing sixteenth-century Languedoc vividly to life, Kate Mosse's The Burning Chambers is a gripping story of love and betrayal, mysteries and secrets; of war and adventure, conspiracies and divided loyalties.As the Wars of Religion begin to take hold, a courageous Catholic woman and a passionate Hugue not believer find themselves united in possession of a priceless relic and set upon a quest to uncover a long-buried secret hidden in the haunting Chateau de Puivert in the foothills of the Pyrenees.Carcassonne 1562. Nineteen-year-old Minou Joubert receives an anonymous letter at her father's bookshop. Sealed with a distinctive family crest, it contains just five words: She knows that you live. But before Minou can decipher the mysterious message, a chance encounter with a young Huguenot convert, Piet Reydon, changes her destiny forever. For Piet has a dangerous mission of his own, and he will need Minou's help if he is to get out of La Cité alive.A thrilling adventure and heartbreaking love story from the New York Times bestselling author of the Languedoc Trilogy, The Burning Chambers is a historical novel of pace, excitement, conspiracy, and danger like no other. ...Show more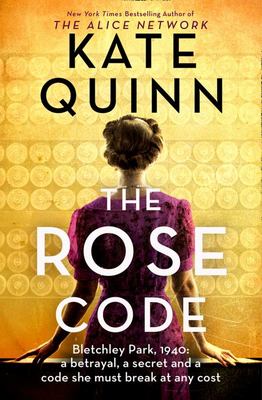 $32.99
NZD
Category: Historical
The brand-new book from the internationally bestselling author of The Alice Network and The Huntress - available to pre-order now! 1940. Three very different women answer the call to mysterious country estate Bletchley Park, where the best minds in Britain train to break German military codes. Vivacious debutante Osla is the girl who has everything--beauty, wealth, and the dashing Prince Philip of Greece sending her roses--but she burns to prove herself as more than a society girl, and puts her fluent German to use as a translator of decoded enemy secrets. Imperious self-made Mab, product of east-end London poverty, works the legendary codebreaking machines as she conceals old wounds and looks for a socially advantageous husband. Awkward local girl Beth, whose shyness conceals a brilliant facility with puzzles beneath her shy exterior. 1947. As the royal wedding of Princess Elizabeth and Prince Philip whips post-war Britain into a fever, three friends-turned-enemies are reunited by a mysterious encrypted letter-the key to which lies buried in the long-ago betrayal that destroyed their friendship and left one of them confined to an asylum. A mysterious traitor has emerged from the shadows of their Bletchley Park past, and now Osla, Mab, and Beth must resurrect their old alliance and crack one last code together... As the nation prepares for the royal wedding they must race against the clock to save one of their own. If you loved The Crown, don't miss this riveting historical novel - pre-order now! ...Show more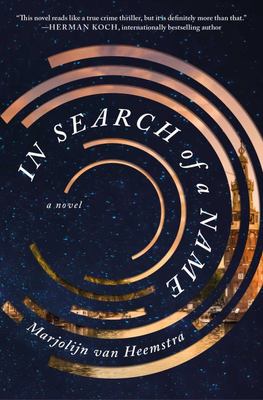 $35.00
NZD
Category: Historical
This spellbinding and intimate novel explores the burden of legacy as a young woman wrestles with discoveries that contradict her great-uncle's supposed heroism during World War II. D says that a name always fits in the end, that a name is like a leather shoe that forms itself to the foot. But in my m ind, it's the other way around: a person grows into his name. Marjolijn van Heemstra has heard about her great-uncle's heroism for as long as she can remember. As a resistance fighter, he was the mastermind of a bombing operation that killed a Dutch man who collaborated with the Nazis, and later became a hero to everyone in the family. So, when Marjolijn's grandmother bestows her with her great-uncle's signet ring requesting that she name her future son after him, Marjolijn can't say no. Now pregnant with her firstborn, she embarks on a quest to uncover the true story behind the myth of her late relative. Chasing leads from friends and family, and doing her own local research, Marolijn realizes that the audacious story she always heard is not as clear-cut as it was made out to be. As her belly grows, her doubts grow, too--was her uncle a hero or a criminal? Vivid, hypnotic, and profoundly moving, In Search of a Name explores war and its aftermath and how the stories we tell and the stories we are told always seem to exist somewhere between truth and fiction. ...Show more
$12.99
NZD
Category: Historical | Series: Bridgertons
1814 promises to be another eventful season, but not, This Author believes, for Anthony Bridgerton, London's most elusive bachelor, who has shown no indication that he plans to marry. And, in all truth, why should he? When it comes to playing the consummate rake, nobody does it better . . . --Lady Whist ledown's Society Papers, April 1814But this time the gossip columnists have it wrong. Anthony Bridgerton hasn't just decided to marry-- he's also chosen a wife! The only obstacle is his intended's older sister, Kate Sheffield--the most meddlesome woman ever to grace a London ballroom. The spirited schemer is driving Anthony mad with her determination to stop the betrothal, but when he closes his eyes at night, Kate's the woman haunting his increasingly erotic dreams . . .Contrary to popular belief, Kate is quite sure that reformed rakes do not make the best husbands-- and Anthony Bridgerton is the most wicked rogue of them all. Kate is determined to protect her sister--but she fears her own heart is vulnerable. And when Anthony's lips touch hers, she's suddenly afraid she might not be able to resist the reprehensible rake herself . . . ...Show more