$35.00
NZD
Category: Historical | Series: The\Last Kingdom Ser.
THE FINAL BATTLE AWAITS... The epic conclusion to the globally bestselling historical series, coming October 2020. England is under attack. Chaos reigns. Northumbria, the last kingdom, is threatened by armies from all sides, by land and sea - and only one man stands in their way. Torn between loyalty and sworn oaths, the warrior king Lord Uhtred of Bebbanburg faces his greatest ever battle - and prepares for his ultimate fate... ...Show more
$37.99
NZD
Category: Historical
Paris 1943. Lana Antanov is rushing to see her husband, Frederic, and tell him the news that she is pregnant. But as she arrives the convent where Frederic teaches music, she watches in horror as a Gestapo officer executes Frederic for hiding a Jewish girl in a piano. Overcome with grief, Lana loses the baby. A few months later, Lana is approached by a member of the French Resistance to work as a spy on the French Riviera and help save Jews from execution. As a 'White Russian' daughter of a Russian countess, Lana is the ideal choice to infiltrate the emigre community of Russian aristocrats who socialise with German officers. But Lana has a very personal motive for taking on this mission - the Gestapo officer in charge intent on exterminating all the Jews, Alois Brunner, is the man who shot Frederic. Lana's cover story makes her the mistress of a wealthy Swiss playboy, the darkly handsome and charismatic Guy Pascal, and her base his villa on the Riviera. Together they make a ruthlessly effective team. The information they gather at parties and the casino at Monte Carlo helps thwart several raids and enables countless Jews to escape to Morocco by boat. But Lana has not counted on becoming attached to a young Jewish girl named Odette or to fall helplessly in love with Guy. As the Nazis close in, her desire to protect the ones she loves threatens to put them all at risk. 'Filled with danger and romance, Lana's War is the story of a courageous woman waging her own battle against the Nazis ... Cinematic in scope, this novel will keep readers turning pages with twists and turns that lead to an unforgettable ending.' Renee Rosen, bestselling author of Park Avenue Summer   'Lana is a heroine to root for, and her story of loss and love is inspiring and life-affirming. I was completely engrossed in this lush, transportive novel.' Allison Pataki, New York Times bestselling author of The Queen's Fortune ...Show more
$12.99
NZD
$22.99
(43% off)
Category: Historical
Inspired by the author's true family story of survival during the Second World War, Natalia's story is an unforgettable portrait of the triumph of the human spirit. 'In anguish and despair we release this child into the hands of God, with hope and faith that she may be saved...' On a freezing night in January 1941, a little Jewish girl is found on the steps of a building in Bucharest. With Romania now in league with the Nazis, the Jewish population is doomed. The child is placed in an orphanage and adopted by a wealthy childless couple who name her Natalia. As she adapts to her new life, she all but forgets the parents forced to leave her behind. Yet, as Natalia comes of age under Soviet occupation, traces of her identity pierce the surface of her everyday life, leading to a discovery that will change her destiny. When she meets Victor, an important official in the Communist regime, she is drawn into a passionate affair despite overwhelming obstacles and her lover's dark secrets. When Natalia is offered a one-time chance at freedom, Victor is determined to help her escape, even if it means losing her. Natalia must make an agonising decision: remain in Bucharest with her beloved adoptive parents and the man she loves, or seize the chance to finally live life on her own terms - and to confront the painful enigma of her past. 'There are stories that must be told because in doing so, they shed light on the irreparable consequences of war in the lives of so many innocents.'Armando Lucas Correa, author of The German Girl ...Show more
$12.99
NZD
$22.99
(43% off)
Category: Historical
From the bestselling author of The Girl from Munich, a sweeping, dramatic tale of love and identity, inspired by a true story. After enduring the horror of Nazi Germany and the chaos of postwar occupation, Lotte Drescher and her family arrive in Australia in 1956 full of hope for a new life. It's a lan d of opportunity, where Lotte and her husband Erich dream of giving their children the future they have always wanted.   After years of struggling to find their feet as New Australians, Erich turns his skill as a wood carver into a successful business and Lotte makes a career out of her lifelong passion, photography. The sacrifices they have made finally seem worth it until Erich's role in the trade union movement threatens to have him branded a communist and endanger their family. Then darker shadows of the past reach out to them from Germany, a world and a lifetime away.   As the Vietnam War looms, an unexpected visitor forces Lotte to a turning point. Her decision will change her life forever . . . and will finally show her the true meaning of home.   PRAISE FOR THE GIRL FROM MUNICH 'Captures the intensity of a brutal and unforgiving war, successfully weaving love, loss, desperation and, finally, hope into a gripping journey of self-discovery.' The Courier Mail 'An epic tale, grand in scope ... Packs an emotional punch that will reverberate far and wide.' The Weekly Times 'A tumultuous journey from order to bedlam, and from naive acceptance of the status quo to the gradual getting of political wisdom.' Sunday Age 'Stellar debut Aussie fiction combining historical tragedy, romance, and true stories ... Superb and enriching.' Better Reading   ...Show more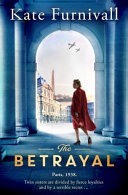 $12.99
NZD
$22.99
(43% off)
Category: Historical
*** THE TOP TEN BESTSELLER *** 'Superb storytelling - this intricate web of secrets and lies kept me guessing until the very end' Dinah Jefferies Discover a brilliant story of love, danger, courage and betrayal, from the internationally bestselling author of The Liberation. Could you kill someone? S omeone you love? Paris, 1938. Twin sisters are divided by fierce loyalties and by a terrible secret. The drums of war are beating and France is poised, ready to fall. One sister is an aviatrix, the other is a socialite and they both have something to prove and something to hide.  The Betrayal is an unforgettably powerful, epic story of love, loss and the long shadow of war, perfect for readers of Santa Montefiore and Victoria Hislop. 'A real page-turner which puts you in France on the cusp of war from the very first page. Gripping. Tense. Mysterious. Kate Furnivall has a talent for creating places and characters who stay with you long after you've read the final word' Jane Corry 'Exquisitely heart-wrenching & utterly engrossing. The Betrayal is an absolute gem' Penny Parkes 'A thrilling, compelling read. Wonderful!' Lesley Pearse Further praise for Kate Furnivall: 'Wonderful . . . hugely ambitious and atmospheric' Kate Mosse 'A thrilling plot ... Fast-paced with a sinister edge' Times 'Gripping . . . poignant, beautifully written ...will capture the reader to the last' Sun 'Truly captivating' Elle 'Perfect escapist reading' Marie Claire 'An achingly beautiful epic' New Woman 'A rollicking good read' Daily Telegraph ...Show more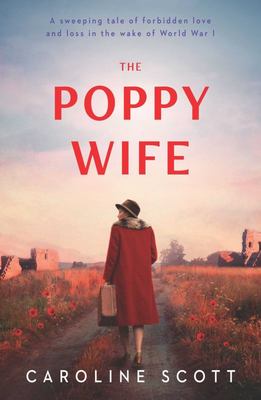 $12.99
NZD
$22.99
(43% off)
Category: Historical
**A BBC RADIO 2 BOOK CLUB PICK** Perfect for fans of The Tattooist of Auschwitz and 1917 If someone you loved went missing, would you ever stop searching for them? ''This excellent debut is a melancholic reminder of the rippling after-effects of war'' The Times ''[An] impressive debut... a touching nove l of love and loss'' Sunday Times 1921. The Great War is over and while many survivors have been reunited with their loved ones, Edie''s husband Francis has not come home. He has been declared ''missing, believed killed'', but when Edie receives a mysterious photograph in the post, taken by Francis, hope flares. And so she begins to search. Francis''s brother, Harry, is also searching. Hired by grieving families to photograph gravesites, he has returned to the Western Front. He too longs for Francis to be alive, so they can forgive each other for the last conversation they ever had.  And as Harry and Edie''s paths converge, they begin to get closer to a startling truth. An incredibly moving account of an often-forgotten moment in history, The Photographer of the Lost is an epic novel of forbidden love, loss and the shattered hearts left behind in the wake of the First World War. Caroline Scott is a freelance writer and historian specializing in WWI and women''s history. The Photographer of the Lost is partially inspired by her family history. Praise for The Photographer of the Lost: ''There''s only one word for this novel... and that''s epic... A beautifully written must-read'' heat ''A gripping, devastating novel about the lost and the ones they left behind'' Sarra Manning, RED ''The pain of not knowing where a son, brother or husband lies, and the guilt and psychological dissonance that torment survivors, are movingly conveyed in this terrific first novel'' Daily Mail ''Scott has done an amazing job of drawing on real stories to craft a powerful novel'' Good Housekeeping ''A deeply poignant and immersive novel . . .  told in beautiful, elevated prose. I was completely caught up in these characters'' stories'' Rachel Hore, author of The Love Child ''What a wonderful debut novel. So accomplished. It grabs you from page one with such immediacy, such urgency. With a mystery at its heart and a moving, but page turning hook, I couldn''t stop reading'' Lorna Cook, author of The Forgotten Village ''A profoundly moving story of love and loss. The Photographer of the Lost is a sublimely rendered portrait of the search for answers amidst the chaos and devastation left behind in the aftermath of World War 1'' Fiona Valpy, author of The Dressmaker''s Gift ''A poignant hymn to those who gave up their lives for their country and to those who were left behind'' Fanny Blake, author of A Summer Reunion ''I was utterly captivated by this novel, which swept me away, broke my heart, then shone wonderful light through all the pieces'' Isabelle Broom, author of One Winter Morning ''Beautiful, unflinching: The Photographer of the Lost is going to be on an awful lot of Best Books of the Year lists, mine included... unforgettable'' Iona Grey, author of The Glittering Hour ''Momentous, revelatory and astonishing historical fiction!'' Historical Novel Society ''Had me spellbound from the first page to the last'' Hazel Gaynor, author of The Lighthouse Keeper''s Daughter ''An amazing debut. It captivated me from start to finish and I can''t recommend it highly enough'' NB Magazine ...Show more
$12.99
NZD
$22.99
(43% off)
Category: Historical
Before everything changed, Hannah Rosenthal lived a charmed life. But now the streets of Berlin are draped in swastikas and Hannah is no longer welcome in the places she once considered home. A glimmer of hope appears in the shape of the St Louis, a transatlantic liner that promises Jews safe passage t o Cuba. The Rosenthals sell everything to fund visas and tickets. At first the liner feels like luxury, but as they travel the circumstances of war change, and it soon becomes their prison. Seven decades later in New York, on her twelfth birthday Anna Rosen receives a package from Hannah, the great-aunt she never met but who raised her deceased father. Anna and her mother immediately travel to Cuba to meet this elderly relative, and for the first time Hannah tells them the untold story of her voyage on the St Louis. Based on a true story, this wonderful novel gives voice to the joys and sorrows of generations of exiles, forever seeking a place called home. 'The German Girl tells a horrific story in profoundly human terms, and one ends up totally gripped and absorbed in the history' Julia Neuberger, author of On Being Jewish ...Show more
$12.99
NZD
$22.99
(43% off)
Category: Historical
Based on the true story of the Nazi massacre of a French village in 1944, an unforgettable tale of love and redemption from the bestselling author of The German Girl.Berlin, 1939: Bookstore owner and recent widow Amanda Sternberg is fleeing Nazi Germany with her two young daughters, heading towards unoc cupied France. She arrives in Haute-Vienne with only one of her girls. Their freedom is short-lived and soon they are taken to a labour camp.New York City, 2015: Elise Duval, eighty years old, receives a phone call from a woman recently arrived from Cuba bearing messages from a time and country that she's long forgotten. A French Catholic who arrived in New York after World War II, Elise and her world are forever changed when the woman arrives with letters written to Elise from her mother in German during the war, unravelling more than seven decades of secrets.Inspired by one of the most shocking atrocities perpetrated by the Nazis during World War II, the 1944 massacre of all the inhabitants of the village of Oradour-sur-Glane in the south of France, The Daughter's Tale is a beautifully crafted family saga of love, survival and hope against all odds.'Breathtakingly threaded together from start to finish with the sound of a beating heart.' THE NEW YORK TIMES'Not many novels bring me to tears… it takes a special storyteller to tell the tale of such devastation. It seems so wrong to say I loved this book, but I did. I loved, I learned, I cried.' Natasha Lester, bestselling author of The Paris Seamstress'Reminds us that it is in the darkest gardens that the brightest seeds of hope are sown' Kristin Harmel, bestselling author of The Room on Rue Amelie'A beautifully rendered tale about sacrifice and resilience, and of a mother's relentless will to save her daughters in the face of annihilation' Roxanne Veletzos, author of The Girl They Left Behind ...Show more
$12.99
NZD
$22.99
(43% off)
Category: Historical
The runaway Australian bestseller about love and loss in wartime Germany, inspired by a true story Growing up in Hitler's Germany, Charlotte von Klein has big dreams for the future. Her mind is full of plans for a sumptuous wedding to her childhood sweetheart Heinrich while working for the Luftwaffe, p roudly giving her all for the Fatherland. But in 1943, the tide of the war is turning against Germany, and Lotte's life of privilege and comfort begins to collapse around her. As Hitler's Reich abandons Germany and the country falls to the Allied forces, Lotte is forced to flee from the unfolding chaos to the country with the darkly attractive Erich Drescher, her Luftwaffe superior. Amid the danger, pain and heartbreak of a country turning on itself, Lotte must forge a new life for herself. But as the country struggles to find its future, shadows of the past come rushing back and Lotte finds herself questioning everything she has fought for - love, duty and freedom. The choices she makes will change her life forever. Praise for The Girl from Munich 'Captures the intensity of a brutal and unforgiving war, successfully weaving love, loss, desperation and, finally, hope into a gripping journey of self-discovery.' The Courier Mail 'An epic tale, grand in scope ... Packs an emotional punch that will reverberate far and wide.' The Weekly Times 'A tumultuous journey across the country, from order to bedlam, and from naive acceptance of the status quo to the gradual getting of political wisdom.' Sunday Age 'Stellar debut Aussie fiction combining historical tragedy, romance, and true stories ... Superb and enriching' Better Reading   ...Show more
$12.99
NZD
$22.99
(43% off)
Category: Historical
The bestselling, breathtaking debut about love and war, and the battle to save a precious legacy Each lace shawl begins and ends the same way - with a circle. Everything is connected with a thread as fine as gossamer, each life affected by what has come before it and what will come after. 1941, Estonia. As Stalin's brutal Red Army crushes everything in its path, Katarina and her family survive only because their precious farm produce is needed to feed the occupying forces. Fiercely partisan, Katarina battles to protect her grandmother's precious legacy - the weaving of gossamer lace shawls stitched with intricate patterns that tell the stories passed down through generations. While Katarina struggles to survive the daily oppression, another young woman is suffocating in her prison of privilege in Moscow. Yearning for freedom and to discover her beloved mother's Baltic heritage, Lydia escapes to Estonia. Facing the threat of invasion by Hitler's encroaching Third Reich, Katarina and Lydia and two idealistic young soldiers, insurgents in the battle for their homeland, find themselves in a fight for life, liberty and love. Praise for The Lace Weaver 'A beautifully written and utterly compelling story of love and war and resistance that shines a light onto a dark and tragic period of history while also illuminating the enduring power of love and friendship. Unforgettable and emotionally wrenching, and as exquisite as the lace the women of the story weave.' Kate Forsyth 'A sweeping historical story set in Estonia and Russia during the tumultuous year of 1941 ... This is a meticulously researched novel, and Chater seamlessly incorporates the symbolic motif of the Estonian lace-weaving tradition and the Tartu knitting circle to link the past and present ... Recommended for fans of Kirsty Manning and Kate Morton, this is a gut-wrenching tale about a devastating time in history. Full of hope, heartache and the power of keeping traditions alive.' Bookseller and Publisher 'From the very first line, I was captivated by this tale of two very different, but equally heroic, women. There is beauty to be found everywhere: in the writing, in the women's friendship, in the tragedy, and in the motif of the lace shawls, which weaves the story together.' Natasha Lester, author of Her Mother's Secret and A Kiss from Mr Fitzgerald 'A rich, textured and evocatively told story of love, loss and the ties that bind. The setting is exotic and intriguing and presents a unique side of the war ... I found it difficult to put this haunting novel down and it will stay with me for a long time to come, I'm certain. Lauren Chater is a bold new force in Australian historical fiction. Bravo on a glorious debut!' Tess Woods, author of Beautiful Messy Love and Love at First Flight. 'Beautiful and brilliant ... An impressive, powerful and skillfully told anti-war novel from an extremely gifted writer' Backstory journal ...Show more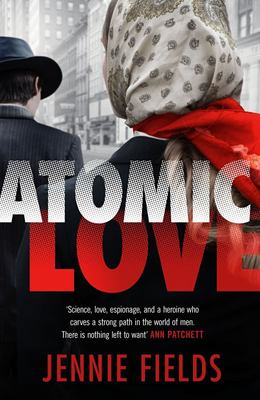 $37.00
NZD
Category: Historical
In 1950s Chicago a former scientist on the Manhattan Project finds herself torn between two men: the physicist she loved passionately during the war, and the handsome, wounded FBI agent now investigating him for espionage, in this breathtaking novel of betrayal, love, desire, and secrets.   Chicago, 19 50. Rosalind Porter has always defied expectations--in her work as a physicist on the Manhattan Project, and in her passionate love affair with co-worker Thomas Weaver. Five years after the end of both, her guilt over the results of her work and her heartbreak over Weaver are intertwined. She has almost succeeded in resigning herself to a more conventional life. Then Weaver gets back in touch--and so does the FBI. Agent Charlie Szydlo wants Roz to spy on Weaver, whom the FBI suspects of passing nuclear secrets to Russia. Despite her better instincts, Roz has never stopped loving Weaver, but now finds herself drawn to Charlie, even as she's not sure she can trust him. Charlie, whose time as a prisoner of war haunts him, is not sure he can trust himself, especially around Roz. As Roz's feelings for each man unexpectedly deepen, so too does the danger she finds herself in. When it becomes clear the Russians will stop at nothing, Roz will have to choose: The man who taught her how to love, or the man her love might save? ...Show more
$24.99
NZD
Category: Historical | Series: The\Last Kingdom Ser.
The fifth installment of Bernard Cornwell's bestselling Saxon Tales chronicling the epic saga of the making of England, "like Game of Thrones, but real" (The Observer, London)--the basis for The Last Kingdom, the hit BBC America television series. At the end of the ninth century, King Alfred of Wessex is in ill health; his heir, an untested youth. His enemy, the Danes, having failed to conquer Wessex, now see their chance for victory. Led by the sword of savage warrior Harald Bloodhair, the Viking hordes attack. But Uhtred, Alfred's reluctant warlord, proves his worth, outwitting Harald and handing the Vikings one of their greatest defeats. For Uhtred, the sweetness of victory is soon overshadowed by tragedy. Breaking with Alfred, he joins the Vikings, swearing never again to serve the Saxon king. Instead, he will reclaim his ancestral fortress on the Northumbrian coast. Allied with his old friend Ragnar-and his old foe Haesten-he aims to invade and conquer Wessex itself. But fate has different plans . . . In The Burning Land, Bernard Cornwell, "the reigning king of historical fiction" (USA Today), delivers a rousing saga of Anglo-Saxon England-an irresistible new chapter in his thrilling Saxon Tales, the epic story of the birth of England and the legendary king who made it possible. ...Show more