$12.99
NZD
Category: Usborne | Series: Sticker Dollies
The fourth Sticker Dolly stories title, a fiction series inspired by Sticker Dolly Dressing. A baby dragon is all alone on the Enchanted Isle, with no one to care for it. Worse still, it only eats berries from an island far out to sea - and there's a storm coming in. The Magic Dolls need to spring into action to save the baby dragon, and fast! Brand new series fiction for young readers, inspired by the best-selling Sticker Dolly Dressing series. Contains a page of stickers so you can dress the dolls, and illustrations throughout. Exciting adventure story with aspirational, diverse female characters.   ...Show more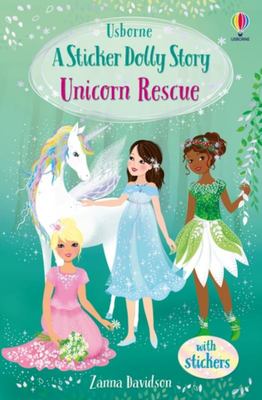 $12.99
NZD
Category: Usborne | Series: Sticker Dolly Stories
Grace, Holly and Lily are the Magic Dolls, who care for the Magical Creatures of the Enchanted Isle. When a frightened unicorn is found in the Spellwood, it's up to the Magic Dolls to help! In her anxiety the weather unicorn has whipped up a terrible storm, terrifying the fairy creatures of the wood. Ca n the Magic Dolls help, before it's too late? First in an exciting new Fiction series based on the internationally bestselling Sticker Dolly Dressing series. With strong, aspirational female main characters, and a magical world which will be revisited in each story. Sticker Dolly Dressing will be supported by an extensive Marketing and PR campaign throughout 2020. High-spec package, with b/w illustrations and a sticker sheet. Works as a read-together story for younger children, or a read-alone book for more confident readers, with short, manageable chapters.   ...Show more
$12.99
NZD
Category: Usborne | Series: Sticker Dolly Stories
The third title in the brand new Sticker Dolly stories, a fiction series inspired by Sticker Dolly Dressing. It's the night of the Undersea Gala on the Enchanted Isle, and Nerissa the mermaid can't find the grand prize - the Shining Pearls. Have they been stolen? Who would do such a thing? It's up to th e Magic Dolls to find out! Brand new series fiction for young readers, inspired by the best-selling Sticker Dolly Dressing series. Contains a page of stickers so you can dress the dolls, and illustrations throughout. Exciting adventure story with aspirational, diverse female characters.   ...Show more
$12.99
NZD
Category: Usborne | Series: Sticker Dolly Stories
The Magic Dolls have been invited to the Fairy Picnic, and the big day has finally arrived. But on the way they discover the Trolls have come down from the High Mountains and are on their way to the picnic too! The Trolls are incredibly clumsy and greedy, and are sure to destroy the picnic. Can the Magi c Dolls stop them, before it's too late? The second in an exciting new Fiction series based on the internationally bestselling Sticker Dolly Dressing series. With strong, aspirational female main characters, and a magical world which will be revisited in each story. Sticker Dolly Dressing will be supported by an extensive Marketing and PR campaign throughout 2020. High-spec package, with full-colour illustrations a sticker sheet and collectability elements. Works as a read-together story for younger children, or a read-alone book for more confident readers, with short, manageable chapters.   ...Show more
$22.99
NZD
Category: Usborne | Series: Usborne Book and Jigsaw
This striking 300-piece jigsaw shows the national flags of every independent country in the world for children to piece together and discover. Each flag is labelled, and the colourful, completed puzzle provides a great learning and memory aid to return to again and again.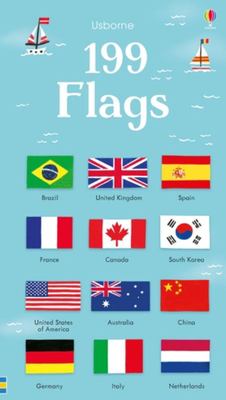 $14.99
NZD
Category: Usborne | Series: 199 Pictures Ser.
This beautifuly illustrated picture word book contains exactly 199 flags to look at and talk about. Organised by continent, children will be fascinated to see the flag designs used by different countries around the world. A great way to extend and broaden children's vocabulary and geographical knowledge , with 199 labelled images of flags. A neat and practical format, perfect for taking on holiday. Part of the '199 Things' series, which includes '199 Things under the sea' and '199 Animals'. ...Show more
$15.99
NZD
Category: Usborne | Series: Sticker Dolly Dressing Ser.
Dress and accessorise brides, bridesmaids, and grooms for a range of stylish weddings in this gorgeous sticker book. With over 300 stickers to dress the brides and grooms as they prepare for their big day - trying on wedding dresses, choosing the cake, and dressing for the big day and the first dance. 2 020 sees the launch of an exciting new range of Sticker Dolly Dressing Stories, plus gorgeous new additions to the activity book series. Sticker Dolly Dressing will be supported by an extensive Marketing and PR campaign throughout 2020. New edition of 9781409597308. The revamped Sticker Dolly Dressing series now features reusable stickers, laminated pages and a fold-out page where you can put your stickers in between uses. ...Show more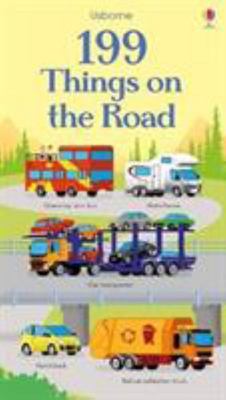 $14.99
NZD
Category: Usborne | Series: 199 Pictures
This engaging picture reference book contains exactly 199 things on the road. Children will love spotting and talking about all the different sorts of cars, trucks, bikes, tractors and emergency vehicles. Themes include: 'All kinds of cars', 'In the city' and 'At the farm'.
$22.99
NZD
Category: Usborne | Series: See Inside
Delve deep into the mysteries of Earth's geography to reveal the hidden secrets of life on our planet. The text includes double page spreads on mountains, deserts, the oceans, the atmosphere and icy landscapes such as Antarctica, each one with flaps to lift to reveal scientific and natural history infor mation. ...Show more
$12.99
NZD
Category: Usborne | Series: Usborne Snap Cards
Snap is a much-loved first card game and these large, colourful and high quality cards will delight very young children. Age: 4+ Players: 2-5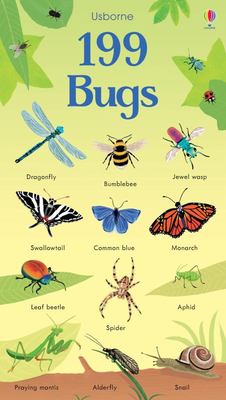 199 Bugs
by Hannah Watson; Mar Ferraro (Illustrator); Nikki Dyson (Illustrator)
$14.99
NZD
Category: Usborne | Series: 199 Pictures Ser.
This colourful picture reference book contains exactly 199 illustrations of bugs from around the world. From familiar species to spot in a garden, to exotic giant centipedes and hairy tarantulas, there's plenty to discover. Categories include: 'Night-time bugs', 'Lots of spiders' and 'In a jungle'.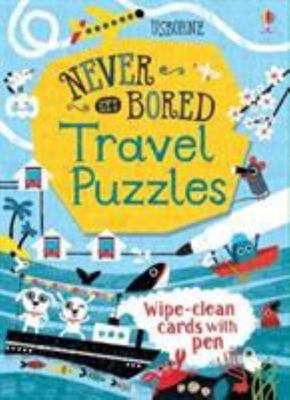 $14.99
NZD
Category: Usborne | Series: Never Get Bored Cards
50 cards of unique, mind-bending puzzles. Each card has amazing replayability, as with the wipe-clean pen you can have as many goes as you like. The pack includes travel adventures, dangerous mazes, cunning word games and so much more. You can even design your own puzzles and challenge your friends. Ide al for long journeys and holidays. The pack contains everything you need to play - wipe-clean cards and a pen. Fun, stylish illustrations and characters bring the expertly-designed puzzles to life. Part of the innovative Never Get Bored series. ...Show more